For all media enquiries or public relations activities, please contact us at marketing@ifphk.org
Introduction of IFPHK
IFPHK was established in June 2000 as a non-profit organization for the fast–growing financial industry. It aims to be recognized in the region as the premier professional body representing financial planners that uphold the highest standards to benefit the public.

The Institute is the sole licensing body in Hong Kong authorized by Financial Planning Standards Board Limited to grant the much-coveted and internationally-recognized CFP® certification and AFP® certification to qualified financial planning professionals in Hong Kong and Macau.

Currently there are more than 203,000 CFP certificants in 26 countries/regions; the majority of these professionals are in the U.S., Canada, China, Australia and Japan, with approximately 4,100 CFP certificants in Hong Kong.

IFPHK has 7,400 members in Hong Kong including 1,200 Qualified Retirement Adviser (QRA) holders; and represents financial planning practitioners in diverse professional backgrounds such as banking, insurance, independent financial advisory, stock broking, accounting, and legal services.

CFP®, CERTIFIED FINANCIAL PLANNER®,

,

, AFP®, ASSOCIATE FINANCIAL PLANNER®,

and

are trademarks owned outside the U.S. by Financial Planning Standards Board Ltd. The Institute of Financial Planners of Hong Kong is the marks licensing authority for the CFP marks and AFP marks in Hong Kong and Macau, through agreement with FPSB.

"QRA®", "QUALIFIED RETIREMENT ADVISER", "

", "

" and "核准退休顧問" are marks owned by the Institute of Financial Planners of Hong Kong. All Rights Reserved.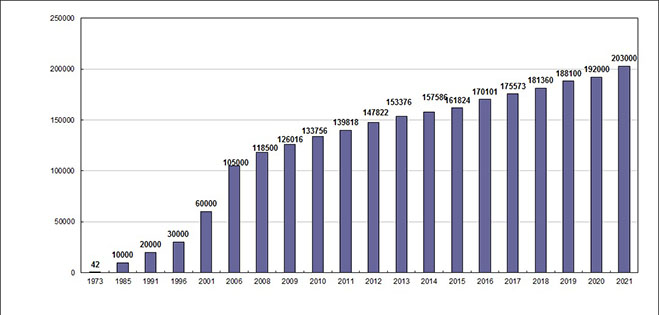 Chart 1: No. of CFP® Certificants worldwide (1973 – 2021)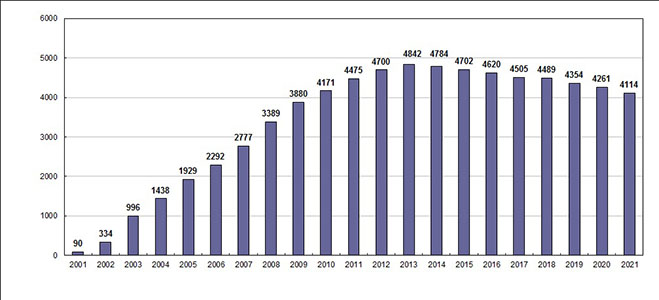 Chart 2: No. of CFP® Certificants in Hong Kong (2001 - 2021)
Vision
The leading organization in Hong Kong for advancing professional financial planning standards and promoting the importance of financial planning
Missions
Mission 1:
To lead the development, promotion and enforcement of professional standards in financial planning industry
Mission 2:
To raise professional standards of financial planners through internationally-recognized certification
Mission 3:
To increase all external stakeholders' awareness of the importance of financial planning and advice from a financial planning professional
Mission 4:
To influence corporate industry leaders to uphold high standards in financial planning industry
CFP Certification
Introduced in 1972, the CFP certification quickly became financial planning's highest standard worldwide because CFP professionals have met the rigorous 4Es (Education, Examination, Experience and Ethics) certification requirements and voluntarily agreed to adhere to high standards of competence and ethical practice. Thus it assures the public that they will receive objective financial planning advice from CFP professional to help them meet their life goals. More…
Video: Why Firms Value CFP Certification? (Source: Financial Planning Standards Board)
AFP Certification
In 2011, the IFPHK introduces AFP Certification to enhance CFP Certification requirements, advance consumer protection and improve financial planning professionalism in Hong Kong. AFP Certification has been introduced as a progressive pathway to CFP Certification. The AFP Certification is tailored for qualified individuals to care for the common financial planning needs of clients. Those financial planners who are keen to further enhance their professional knowledge in specialized and sophisticated areas can continue with their CFP Certification. More…
What is Financial Planning
Financial planning is the process of setting, planning, achieving and reviewing your life goals through proper management of your finances. It reduces surprises and makes you more in control of your goals. More…
Useful information
Look up important websites for more information on financial planning.
Media Guide – Use of the CFP® Marks and AFP® Marks
Please click HERE for the media guide of the use of CFP® Marks and AFP® Marks.